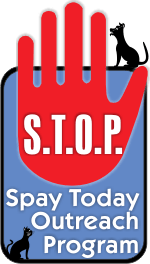 "Lending a helping hand to our community to stop the overpopulation of dogs and cats through spay/neuter instead of euthanasia."




Loving Pet Inn Adoptions (LPIA) Board of Directors became frustrated at their efforts of rescuing pets from local animal shelters and finding them good home but never making a dent in the overpopulation problem. They concluded that along with adoption, spay/neuter was the answer to this problem, not euthanasia. LPIA started a program at the Randolph County Animal Shelter where anyone who surrendered a litter would be offered a low cost or free spay/neuter for the female and male who produced the litter. The shelter personnel would ask the person turning in the litter if they would like to have their pets spayed/neutered and if so, that information would be given to LPIA. The person is contacted and from there, appointments are made for the pet to be spayed or neutered.

The S.T.O.P (Spay Today Outreach Program) program has been successful, not only in Randolph County but has expanded to citizens living in Forsyth, Guilford and Davidson counties. Through word of mouth, people of the community have found out about our program and have been calling asking for help. You can view our current spay/neuter totals on the homepage of our website.




Our goal is to spay and neuter our way out of the pet overpopulation and euthanasia problem.


Please consider supporting the S.T.O.P. Program at LPIA!